Lake House Sneekermeer

Comfortable holiday loft on the Sneekermeer
A room with a view: Discover the Snitserleven feeling in one of the most beautiful places in Friesland. Feel at home in this architecturally renovated loft for two. From the living room and the attractively landscaped garden you can enjoy the panoramic view over the Sneekermeer. This Lake House is a holiday loft where it feels like the sun is always shining: a smart yellow custom cabinet is the heart of the house. The different living zones are grouped around this. From the sand-colored Jan des Bouvriebank it is wonderful to watch boats. You also have a view over the lake from the dining area and kitchen. Vintage Dutch design completes the interior. The sleeping area is equipped with a comfortable 2-person Auping bed. Even more convenience: a spacious bathroom, washing machine/dryer, oven/microwave and a cozy shell garden with several seating areas.
Holiday home
Sneek
2 persons
No pets
1 bathroom
1 toilet
1 bedroom
48 m² inside surface
100 m² outside surface.
Accommodation Sn02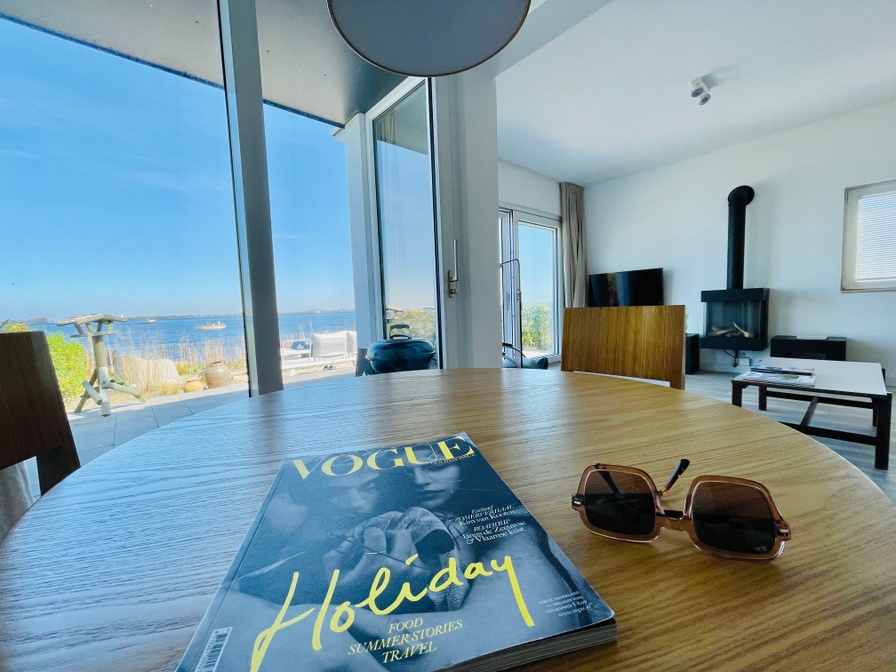 Attributes Holiday home
Location
Not in a holiday
Outside city/village
In residence
Ground floor
Open waters
General
Pet free
Ground floor bedroom
atmosphere fireplace (gas)
Central heating
No smoking
Sanitary
Bathroom ground floor
Shower
Toilet in bathroom
Equipment
Dishwasher
Washing machine
Tumble dryer
Oven
Combi microwave
Outside
Parking (private)
Enclosed garden
Garden
Terrace
Location
Lake House Sneekermeer is located at a brand new marina on the Sneekermeer. Here you can rent a sailboat or luxury sloop. You can grab a terrace at Beachclub Sneek. Or take the ferry to Starteiland, the water sports heart of Friesland. Nearby you will also find a swimming beach and a water ski slope. You cycle through nature over an enchantingly beautiful dike to the pleasant historic city center of Sneek.
Nearby
Supermarket / village shop
3.1 kilometer
Village center
3.3 kilometer
Swimming pool
4.6 kilometer
Eleven Cities
4.7 kilometer
IJsselmeer coast
19.8 kilometer
Supermarket / village shop
3.1 kilometer
Village center
3.3 kilometer
Swimming pool
4.6 kilometer
Eleven Cities
4.7 kilometer
IJsselmeer coast
19.8 kilometer
Special about this accommodation
This privately owned holiday home has been designed as a wonderful vacation spot for couples who love the outdoors, quality, comfort, design and relaxing on the waterfront.
Open waters
By the water
In nature
Friese meren beach <1km
atmosphere fireplace (gas)
Nespresso
---
Important to know
You can book this loft on request. As soon as you have submitted an application, there is a contact moment. An energy surcharge is charged when using the decorative fireplace in early and late season.
---
Availability and prices
Select an arrival and departure date
---
Introduction
An Amsterdam woman who has fallen in love with life on the banks of the Sneekermeer. The peace, the space, the spectacular sunrises, in any case the view that never bores. On the nature in the area, getting a breath of fresh air on the water. On the super cozy historic city of Sneek where I like to cycle to. And every time I am touched by that wonderfully relaxed Frisian national character. When I arrive here from the big city, I immediately feel happy. I also give my guests that feeling of happiness.
Tips from the host
An unforgettable experience: Watching the sun rise in the garden at the first dawn over the Sneekermeer while flights of birds fly across the sky. The day can't get any better! In the evening it is wonderful to barbecue in the garden and watch boats. Prefer to eat out? As a real foodie I like to share my favorite addresses with my guests.
Accommodations you might also like
Frysk Paspoart
A holiday in Friesland is guaranteed to get your heart racing. On visiting Friesland, our province will nestle itself very firmly into your heart for all time. To help you feel just a little bit Frisian yourself, you will receive an authentic Frysk Paspoart (Frisian passport) when booking. This passport is packed with fun facts and information about our culture and language.

During your stay in Friesland, collect your Frysk Paspoart from one of our selected VVV tourist information centres (check your booking confirmation). The passport entitles you to 10% discount on our VVV information and inspiration products.