Oer de Feart

Luxury group villa on a private peninsula (with private beach)
This beautifully furnished villa in Ibiza style consists of no fewer than three spacious floors (with a total floor space of 1000 m2) and is located on its own peninsula, with a beach and a large garden. On the ground floor you will find five bedrooms, decorated according to the theme of Dutch masters. There is also an office/workshop space, a bathroom with washing machine and dryer, two separate toilets, a kitchen and a large living room annex game room/home cinema. On the middle floor there is a living room, two separate toilets, a kitchen, a piano or music room, a bar and a laundry room, with washing machine and dryer. And on the third floor are four bedrooms, a separate toilet and the wellness facilities. There is a spa with sauna, duo shower, Turkish bath, jacuzzi and sun bed. You can also work out on this floor. The villa has its own beach, no fewer than 4 terraces (with several BBQs + outdoor oven), a vegetable garden, a large garden with outdoor kitchen and table tennis table, a floating terrace, a fishing and swimming pond, 11 private parking spaces, and a large teaching/ workshop/office space. There are 2 kitchens (one is suitable for vegans or people who eat gluten-free, for example), its own bar with wine wall + beer tap, 2 jacuzzis, 5 toilets, 3 bathrooms, 9 bedrooms, 2 large living rooms (incl. game and movie room). Do you have an electric car? You can charge it here, as long as you bring your own cable. And do you want to take your boat with you? Then that is also possible, there is a berth of 2.7 x 6.5 meters in the marina of the Grote Wielen that you can use for free.
Holiday home
Joure
16 persons
No pets
3 bathrooms
5 toilets
9 bedrooms
1,000 m² inside surface
1,400 m² outside surface.
Accommodation odf1
---
Free cancellation up to 14 days before arrival
Entrance/reception
1 photo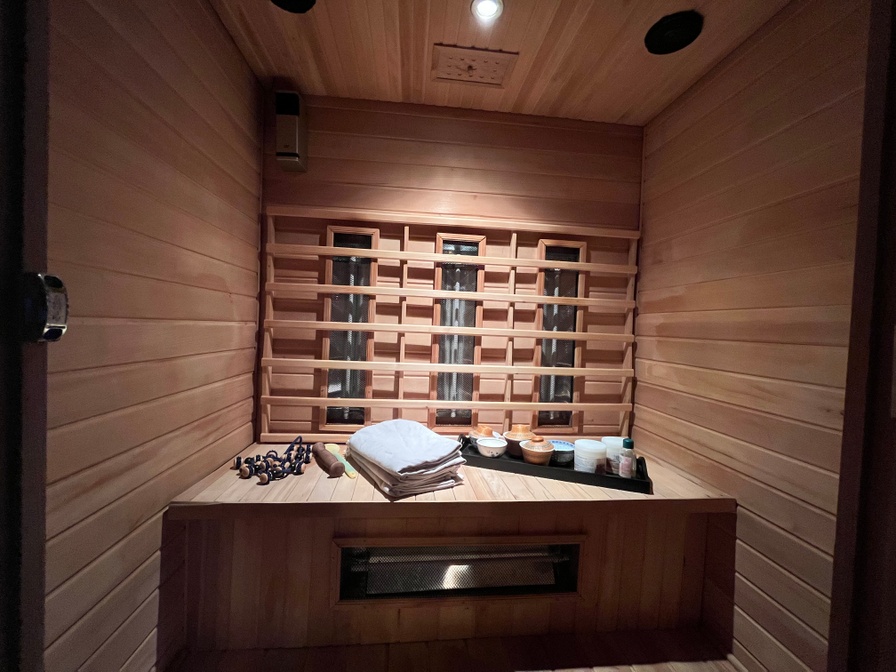 Attributes Holiday home
Location
Detached
Not in a holiday
In Village/City
in /near the forest
By the water
General
Pet free
Ground floor bedroom
Fireplace / wood stove
atmosphere fireplace (gas)
Underfloor heating
Sanitary
Bathroom ground floor
Separate toilet
Shower
Shower in the bath
Bath tub
Equipment
Dishwasher
Washing machine
Tumble dryer
Oven
Combi microwave
Outside
EV Charging station (private)
Parking (private)
Garden
Terrace
Balcony
Wellness
Sauna (private)
Solarium (private)
Steam shower cabin
Sauna (shared)
Solarium (shared)
Shared facilities
EV Charging station
Outdoor pool (shared)
Free pool access
Wifi (shared)
Car park
Location
The villa is located in the water-rich green residential area Wyldehoarne in Joure, centrally located in the Frisian lake area. There are 11 parking spaces on site. Heerenveen station is the nearest train station, there are also two bus stops within walking distance of the villa. The travel time to and from Schiphol/Amsterdam is just under five quarters of an hour. We have a very good connection to the A6 and A7, without speed bumps and traffic lights.
Nearby
Village center
1.1 kilometer
Supermarket / village shop
1.2 kilometer
Swimming pool
1.9 kilometer
Eleven Cities
13 kilometer
IJsselmeer coast
15.9 kilometer
Village center
1.1 kilometer
Supermarket / village shop
1.2 kilometer
Swimming pool
1.9 kilometer
Eleven Cities
13 kilometer
IJsselmeer coast
15.9 kilometer
Special about this accommodation
The garden has a size of no less than 1400 m2. In this garden, next to the beach, you will also find a picnic bench, tennis table, organic vegetable garden (you can pick the herbs and use them while cooking!) and various sitting areas. On the South Terrace you will find a Kamado, Fire King barbecue and pizza oven, and the garden terrace has an outdoor kitchen.
in /near the forest
By the water
Friese meren beach <1km
Jetty
Private berth
Fireplace / wood stove
atmosphere fireplace (gas)
Airconditioning
Adapted for the disabled
Bath tub
Nespresso
Espresso machine
EV Charging station (private)
Sauna (private)
Sauna (shared)
Whirlpool
EV Charging station
Outdoor pool (shared)
---
Important to know
To prevent nuisance for local residents, savage parties are not allowed at this location. In addition, the villa is adapted to and cleaned especially for people with asthma or COPD. This means that all indoor spaces are smoke-free and that smoking is only allowed at the smoking pole on the roof terrace. The deposit will be deducted if cigarettes are found in places other than the smoking pole.
Up to 14 days before arrival
Free cancellation is possible with this accommodation up to 14 days before arrival. Any reservation costs and insurance premium will always be charged in the event of cancellation.
---
Availability and prices
Select an arrival and departure date
---
Introduction
My name is Paul Harts and I am the owner of this villa. The villa is occupied when there are no guests and is therefore not a holiday home. That means you will find all the comforts you have at home here. You can just take what you need from the kitchen, and everything in the fridge is on the house, so you can use it nicely.
Tips from the host
The villa is located between the edge of the village and the countryside, so as soon as you walk out the door you are on a beautiful walking or cycling route. If you wish, we can arrange rental bicycles for you, including electric ones. In a few minutes by car you are in Heerenveen and the picturesque Terherne, Sneek, Grou, Akkrum, Hindeloopen, Harlingen are all close by. It is useful for us if you pass on your program to us, so that we can prepare and prepare everything for you.
Accommodations you might also like
Frysk Paspoart
A holiday in Friesland is guaranteed to get your heart racing. On visiting Friesland, our province will nestle itself very firmly into your heart for all time. To help you feel just a little bit Frisian yourself, you will receive an authentic Frysk Paspoart (Frisian passport) when booking. This passport is packed with fun facts and information about our culture and language.

During your stay in Friesland, collect your Frysk Paspoart from one of our selected VVV tourist information centres (check your booking confirmation). The passport entitles you to 10% discount on our VVV information and inspiration products.