Terras Chalet

New and modern on a spacious camping field on the Heegermeer
This modern terrace chalet has an attractive covered and illuminated outdoor terrace. The decor is pleasant and light. Due to the smart layout, both bedrooms open into a beautiful bathroom, which is equipped with a shower, sink and hair dryer. There is a separate toilet. The play area in the bedroom with a raised bed is nice. The open kitchen has everything you need, of course, such as a coffee maker, refrigerator and microwave. There is a television (satellite) in the dining/sitting area. There is not a separate sitting room. Both the living room and bathroom have electric heating. The windows are fitted with mosquito nets and blackout blinds. There are 2 bedrooms with pillows and duvets. The first bedroom has a double box spring and the second bedroom has a raised bed and a single bed. Outside you can relax on the wooden covered terrace with lounge sofa and two garden chairs. In front of the chalet is also an extra wooden terrace with picnic table and parasol.
Holiday home
Heeg
4 persons
No pets
1 bathroom
1 toilet
2 bedrooms
35 m² inside surface
20 m² outside surface.
Accommodation H439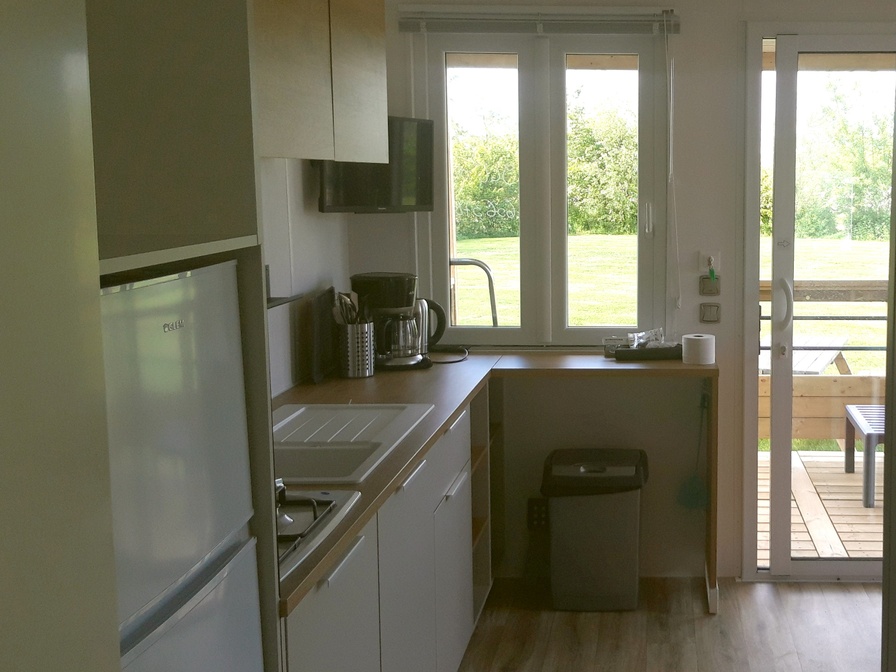 Entrance/reception
1 photo
Attributes Holiday home
Location
Detached
Outside city/village
On a campingsite
Open waters
By the water
Sanitary
Bathroom ground floor
Separate toilet
Shower
Equipment
Tumble dryer
Oven
Combi microwave
Microwave
Fridge mit freezer
Shared facilities
Wifi (shared)
Car park
Sports field
Conference room
Laundry facilities
Location
On the border of land and water, directly on the Heegermeer, you will find this cozy campsite near the water sports village of Heeg. Here you can optimally enjoy a holiday by the water in Friesland! It has beautiful views, a harbor with boat rental and farm. The village of Heeg has several restaurants, a supermarket, a butcher and a bakery. Within fifteen minutes you can drive to IJlst or Sneek, two of the famous Eleven Cities of Friesland.
Nearby
Village center
1.4 kilometer
Supermarket / village shop
1.5 kilometer
Eleven Cities
5.6 kilometer
Swimming pool
8.5 kilometer
IJsselmeer coast
11.6 kilometer
Village center
1.4 kilometer
Supermarket / village shop
1.5 kilometer
Eleven Cities
5.6 kilometer
Swimming pool
8.5 kilometer
IJsselmeer coast
11.6 kilometer
Special about this accommodation
The luxury of a chalet combined with the cosiness of the campsite, you will find that in this Terrace chalet. These new chalets are located in the middle of a spacious camping field, close to the camping guests. That way you won't miss anything of the pleasant camping life. Another great tip! Several (electric) bicycles can be rented at the chalet. Of course you can also use all the facilities of the campsite, such as WiFi, play equipment and the farm experience.
Open waters
By the water
In nature
Friese meren beach <1km
---
Important to know
Bed linen and bath or kitchen towels are not provided, you can rent them or bring your own. The chalet must be cleaned up on departure and signed out at the reception (broom clean).
---
Availability and prices
Select an arrival and departure date
---
Tips for your stay
At the tourist information centre we know all the special places. We've put together a few tips for you to make your visit even more enjoyable. Would you like more? Let the versatility of our region surprise you and set off on one of our very special inspirational story trails.
VVV Waterland van Friesland gibt Ihnen 5 nette Tipps:
Accommodations you might also like
Frysk Paspoart
A holiday in Friesland is guaranteed to get your heart racing. On visiting Friesland, our province will nestle itself very firmly into your heart for all time. To help you feel just a little bit Frisian yourself, you will receive an authentic Frysk Paspoart (Frisian passport) when booking. This passport is packed with fun facts and information about our culture and language.

During your stay in Friesland, collect your Frysk Paspoart from one of our selected VVV tourist information centres (check your booking confirmation). The passport entitles you to 10% discount on our VVV information and inspiration products.