Vrijstaande vakantiewoning
Vrijstaande vakantiewoning

Holiday Home Woudsend, Friesland. Luxury detached holiday homefor 6 personsn at the water with a private dock.
You will find this comfortable holiday home on a small-scale villa park in Woudsend. The holiday home is located directly on the open waterway and has its own parking space. You enter the dining room with large dining area and open kitchen. The kitchen is fully equipped and includes a microwave, refrigerator, oven, freezer and dishwasher. Adjacent is the spacious comfortable sitting area with large windows. You look all around over the open waterway. The living room has a practical tiled floor, television, large cupboard with games and books, an attractive fireplace and a cozy seat. On the first floor you will find three bedrooms, of which two bedrooms with 2 single beds and 1 bedroom with a double bed (with a few mattresses) and a spacious bathroom. The bathroom has a jetted tub, large shower and two sinks. The terrace has comfortable garden furniture and a parasol. After the necessary hours of sunshine, you can take a refreshing shower in the outdoor shower or simply take a dip in the outdoor water. With the boat in front of the door you will find the optimal holiday feeling here.
Holiday home
Woudsend
6 persons
No pets
1 bathroom
2 toilets
3 bedrooms
90 m² inside surface
330 m² outside surface.
Accommodation 24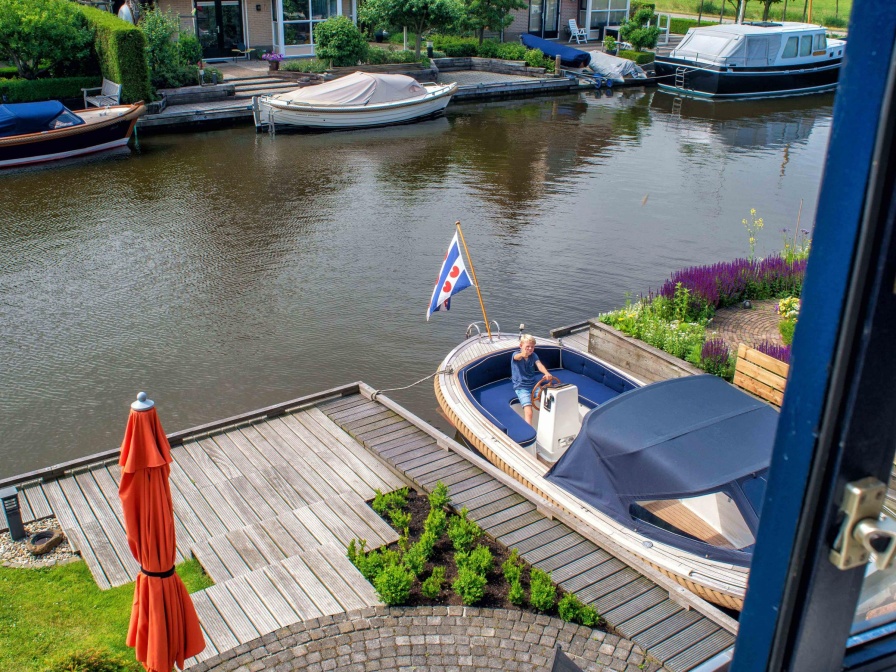 Attributes Holiday home
Location
Detached
In a holiday park
In Village/City
Open waters
By the water
General
Pet free
Fireplace / wood stove
Central heating
No smoking
Wifi (private)
Sanitary
Shower
Bath tub
Toilet in bathroom
Second toilet
Equipment
Dishwasher
Washing machine
Oven
Microwave
Fridge mit freezer
Outside
Lockable bicycle shed
Parking (private)
Garden
Terrace
Location
You will find this comfortable detached holiday home on the edge of the water sports village of Woudsend. The holiday home is located on the water in a quiet villa park with its own parking space. In Woudsend you will find various restaurants, cafes, shops and markets. In fifteen minutes you can drive to the Elfstedenstad Sneek, located on the Sneekermeer with a lovely beach and cozy city center. The house has a south-facing terrace with an outdoor shower, swimming ladder and private dock. After a drink in the sun there is plenty of opportunity to cool down.
Nearby
Supermarket / village shop
862 meter
Eleven Cities
6.1 kilometer
Swimming pool
6.1 kilometer
IJsselmeer coast
10 kilometer
Supermarket / village shop
862 meter
Eleven Cities
6.1 kilometer
Swimming pool
6.1 kilometer
IJsselmeer coast
10 kilometer
Special about this accommodation
There is a berth and a rowing boat (3.5 meters) with motor. There is a lava stone grill on the terrace. You can use 3 ladies' bicycles and 1 men's bicycle. The holiday home has its own parking space.
Open waters
By the water
Jetty
Private berth
Fireplace / wood stove
Bath tub
Whirlpool
---
Important to know
Duvets and pillows are provided. You must bring your own bed linen.
---
Availability and prices
Select an arrival and departure date
Guest reviews
8.8
Huis zag er perfect uit. Ideale ligging wat betreft watersport en ideaal omdat je je boot met huis kan afmeren
---
Huis is prachtig, goede inrichting en alles zag er schoon uit.
---
8.4
Ein schönes Haus in idyllischer Lage! Wir haben uns sehr wohl gefühlt und es war super ausgestattet.
Alles war sauber und ordentlich
---
Tips for your stay
At the tourist information centre we know all the special places. We've put together a few tips for you to make your visit even more enjoyable. Would you like more? Let the versatility of our region surprise you and set off on one of our very special inspirational story trails.
VVV Waterland van Friesland gibt Ihnen 5 nette Tipps:
Accommodations you might also like
Frysk Paspoart
A holiday in Friesland is guaranteed to get your heart racing. On visiting Friesland, our province will nestle itself very firmly into your heart for all time. To help you feel just a little bit Frisian yourself, you will receive an authentic Frysk Paspoart (Frisian passport) when booking. This passport is packed with fun facts and information about our culture and language.

During your stay in Friesland, collect your Frysk Paspoart from one of our selected VVV tourist information centres (check your booking confirmation). The passport entitles you to 10% discount on our VVV information and inspiration products.